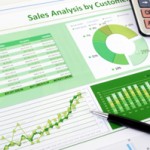 This series started with the question: Do you want to have more financial control of your company? If you read that post and you're still with me I'm going to take a chance and go with "Yes."
The big idea: you have an opportunity to assess your company's financial health by taking a good look at your Balance Sheet – the obvious and the not-so-obvious. The premise is worth repeating: The health of your company today is not determined by last year's profit or last year's sales. It's determined by how well you are positioned to make your assets produce a profit for you today and tomorrow. So here's Tip #2:
The relationship between Accounts Receivable and Accounts Payable: There should be a substantial difference between accounts receivable and accounts payable, at least in part because your A/R contains a profit margin while your A/P is pure cost. That's an admitted oversimplification since your labor costs are typically also in A/R but not A/P, but it's a very quick way to see if your working capital is out of balance. I think your A/R should be at least double your A/P. Yet if you are paying your creditors promptly but not collecting from your customers with equal promptness, the ratio may look great but in fact you've created an imbalance that can starve the business. Consider also stretching your payments to suppliers a bit to narrow the gap. Ask us about the concept of "Natural Payment Terms" if you're not sure how to do this.