My long-standing best selling book, "Finance for NonFinancial Managers," hit #31 on Amazon's list of best selling Corporate Finance books recently, an indication of how high quality content is truly ageless  even in today's world of rapidly growing information via the Internet.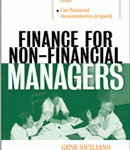 Available in hard copy or eBook from Amazon, or in hard copy signed by the author at www.GeneSiciliano.com. If you don't have one you might ask yourself "Why not?"
As always I welcome your comments and feedback.