This is a question that often comes up as we get referred to CEOs who need help but aren't quite sure if a non-employee relationship is a good idea, especially in the sensitive area of finance. When our firm was founded over 35 years ago, that was a huge decision for CEOs to make, since the company finance chief was considered so valuable to the business that full control through employment was seen as the only safe option.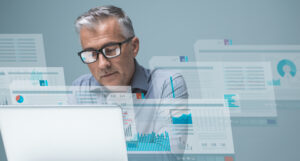 Well, we changed that, and today it's not hard to find a part-time CFO practicing under a variety of catchy names. Even a few CPA firms promote their staff members as part-time CFOs because they know how to handle the accounting, even if they don't have much depth in the more important roles the job requires.
Today, mid-sized and small business leaders have learned that expert guidance, loyalty and integrity can be acquired without owning the source. But from our beginning up to today, there is only one original – Your CFO for Rent®. Our firm offers a distinct set of services which can be valuable to any privately owned company, especially those run by founders, family teams, and entrepreneurs who excel at building companies but not at financially managing that growth.
In recent years our CFO for Rent service has been valuable to companies up to and over $100M in revenues, but the most predominant need has been seen in the $5-50M range, and that continues today. Some of the areas in which senior financial management expertise is critical to the success of a privately owned and operated business:
Manufacturing cost control – do you know what each product really costs you to make?

Customer profitability – just as important as cost control, do you know how each of your customers contributes, or detracts from, your overall profit margin after servicing costs are considered?

Banking relationships – are you really getting the best service and lowest rates from your bank? How do you know?

Cash forecasting and budgeting – Do you know what your cash position will look like in 6 months, a year? Are you doing profit planning?

Administrative cost control – Are you getting your money's worth from the team that supports you?

Employee benefits and regulations (including COVID) – A huge area for cost management and regulatory risk.

Accounting and financial reports – Are you getting the information you need to make the best financial decisions? Is it crafted for your understanding, rather than what pops out of most software packages?

Business insurance – Do you have the right mix? The lowest premium from a reliable insurer? When's the last time you checked?
Just something to think about…If you want to think about it with someone who thinks about this stuff every day, call us.
We are the original – Your CFO for Rent.