We all know that employment is not picking up the way Washington and the pundits would like it to, and we all know – because we've been told by everyone – that the economy isn't on the right track until the unemployment rate gets back down to 8%, 7%, 6%, whatever. But a quick look at this chart shows a very interesting alternative view.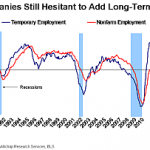 This chart, compliments of the Marcus & Millichap blog (http://blog.marcusmillichap.com/), shows employment trends over the past three recessions. You can see that, while permanent employment ("Nonfarm employment") is still below prior recession recovery levels, temporary employment, usually the precursor to permanent hires, is well above prior recovery levels. Suggests to me that while employers are being cautious about permanent hires, they are bringing on people to do the work at a level that suggests good progress for the economy.
As always I welcome your comments.