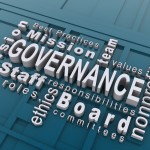 This organization has a $12 million annual budget. The average tenure of current board members is about 4 years, and new board members are elected from the community each year. About ten percent of the board members are retired, the rest are actively engaged in working in the community. The retired members all serve on at least one other board besides this one, and they are best described as very actively retired.
The board membership includes a city councilman, a dean of a college that is part of a major university, two CPAs who are also the managing partners of their respective CPA firms, the name partner of a law firm, a senior officer of a Top 10 bank, and seasoned professional leaders from education, politics, health services, wealth management, construction management and consulting.
The Nominating Committee consists of board members as well as community leaders, and each year it proposes at least 4 to 6 high quality candidates who are interested in serving on the Board. All candidates submit written applications and are interviewed in person, and presented to the Board for election only after the committee's recommendations have been approved by an oversight committee.
This board has policies that define exactly the kind of expertise they should have to properly advise the CEO, and the Nominating Committee each year is tasked with strengthening any of those areas where the Board may not be well represented, or where a board member with that particular expertise may be leaving.
Each board member's performance in key areas – participation, outreach, financial support, etc. – is evaluated during their term, and the Board Chair meets with any whose involvement could improve, offering suggestions to help them be the best director they can be. Board members cannot serve more than three 2-year terms – 6 years total – before they must leave the Board for at least 2 years, unless their particular expertise is considered critical to the board and not available from other board members at that time, to ensure their critical skills are not lost to the decision making process.
Key governance tip: a board member's term expires automatically at the end of 6 years unless they are for some reason exempted, preventing the uncomfortable situation in which the Board Chair has to initiate action to ask an underperforming director to resign.
In terms of financial support, here is an active give-or-get policy that figures into board member performance assessments, which are conducted each year before the nominating committee is formed. The amount of the give-or-get is large enough to be meaningful to most directors, but not so large as to prevent the attraction of critical skills the board needs to do its job. Happily, directors with greater means always give more than the minimum, but the agency has no problem answering the standard foundation question: "Do all your board members give to the organization in a meaningful way?"
What about when they're gone? Board members who leave the board after exceptional service are invited to serve on an emeritus council, a pool of talent composed of past board members that is available to the Chair and CEO for special projects, and to ensure their skills and interest are not lost to the organization.
As you can see, this board is clearly a policy and strategy planning board, and directors do not participate in providing services that staff members can provide. The Board's strategic planning committee develops a 5-year strategic plan under a structured process that involves board members, senior staff, and community leaders. The CEO's performance is evaluated in part based on progress toward achievement of that plan.
Finally, in terms of creating visibility, the CEO is active in the community, sits on boards of community leaders, and has founded an outreach group of service agencies to enable strong communication to legislators where funding legislation is concerned. Several directors are significantly involved in outreach activities, appearing at community events to represent the agency, and bringing resources and contacts from their outside activities to benefit the work of the organization. The agency is well known across its service area, and as a result has just won the largest grant in its history.
Leadership? This board's directors really enjoys their service and pursue their commitments to the agency with enthusiasm, energy, and the skills they brought to the board when they were elected. Would you like to serve on this board or one like it? Would you like your board to operate this way? Tune in to my next post to learn what you could do to make it happen.
And as always, I welcome your comments and feedback.