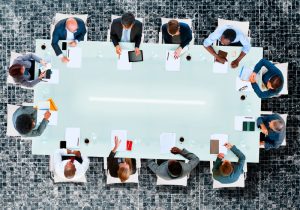 Many of us recognize our obligation to give back to our communities by assisting various nonprofit causes, and one of the best ways to do that is to volunteer to serve as a director on a nonprofit Board for a cause that you feel strongly about.
You get to personally use your expertise to advance the cause you believe in, such as a CFO guiding the agency's financial staff to produce more useful reports,
You can get an opportunity to directly serve the population you are supporting, e.g., serving food in a soup kitchen, wrapping holiday gifts for underprivileged children, etc., and
You can contribute money to help the organization support itself and serve more people.
And there's where it can get sticky.
Most well-run nonprofit organizations choose their Board candidates carefully, and vet them through interviews with agency management and other Board members, such as a nominating committee. There is, or should be, a give-or-get policy that sets a target for Board members in the money contribution department. Every Board member is asked to make an annual contribution that is meaningful to them (the "give), and to encourage others in their personal or business network to give as well (the "get"). This is a sound way to raise money, to ensure Board members feel sufficiently committed to the agency to support it with some of their cash, and for the organization to be able to say to foundations and other potential donors that their Board is 100% financially committed to the agency. All good. As long as we keep in mind that a Board of Directors is primarily about governance.
The sticky part is when a nonprofit organization feels so strongly about financial support from its Board that it populates its Board with big givers who are not interested or qualified for the governance part of the job. One seasoned Board member wrote an article in Directors & Boards magazine that said it pretty well:
"Nonprofit boards that need to be heavily involve in fundraising, i.e., 'doing' rather than just 'overseeing' do not automatically commit a cardinal sin of governance. Rather, they should just make sure that their governance does not suffer as a result, such as by automatically populating the board only with large donors who may not be qualified for or interested in governance."
Sometimes large donors want to be honored for their financial support, and to them that often means a seat on the Board, even though they have no intention of being actively involved in governance. In some agencies the "give-or-get" is quite high, and the real message is "give-or-get-or get out." That can often exclude from Board consideration a candidate whose expertise would greatly benefit the organization, but whose financial condition would not enable a large financial commitment. Instead, I submit, organizations should find a different way to honor those generous donors, and keep the Board focused on governance – looking, listening, asking the questions that will make agency leadership better as a result. To me that means going first for the skill set and second for the wallet. Governance in the nonprofit world should be interpreted just as it is in the for-profit world: using the director's expertise and experience to help the organization achieve its mission.
My fellow Board members have heard this before. Nonprofits, this blog's for you. Need a better governance policy? Give me a call.
We are Your CFO for Rent.