OK, this is a shameless promotion of a book you should probably already have on your bookshelf. When I wrote the first edition of Finance for Nonfinancial Managers, I was pleased to see it rise to #46 on Amazon's best seller list for business finance books. That was a few years ago, so when McGraw-Hill asked me to update it a couple years ago, I wrote the second edition. So, you can imagine my delight when I checked our 2nd edition ranking today and found it near the top of Amazon's best seller list in several categories, namely:
#39 in textbooks on business accounting,
#32 in textbooks on business finance, and
#15 in books on managerial accounting!!!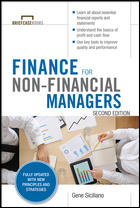 Our clients get a free copy, but you'll have to buy yours. Easy to do at either www.amazon.com or www.barnesandnoble.com