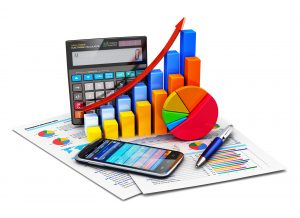 Every company beyond the corner candy store – remember those? – has complexities to their business that management must be aware of in order to manage. How to maintain that awareness? Lots of ways, including touring your facility with regularity, getting special analyses from all the important departments (which is hopefully all of them, otherwise why are they there?) and quizzing your management team at regular staff meetings. All good ways to get the information, if it's reliably delivered and you can keep it all in your head. Want a better way?
The literature typically calls them KPIs, or Key Performance Indicators. Whatever you call them, they should be collected and reported in your dashboard, a 1-page essential addition to your monthly financial reporting package (if not needed even more frequently). Ideally in graph or chart form for easy absorption, here are 5 ideas for financial KPIs you might want to consider:
Current Ratio – Easily gleaned from your monthly balance sheet, this is a quick way of seeing if your current assets are enough to cover your current obligations. Any ratio close to 1:1 is a problem. If you don't have inventories the equivalent metric is called the Quick Ratio. If you're spending time pleading with creditors or bugging customers, this is likely why.
Days Sales Outstanding – How much of your sales is still tied up in receivables? If your terms are 30 days and this number is 60, 75 or more, you have a collection problem.
Inventory Turnover Ratio – How often does your entire inventory turn over each year? We all know the slower it moves, the sooner it dies. You'll have to decide what is a good number for your company, but then track it and manage it to lower the fatality rate. Perhaps even by product category?
Debt Service Coverage Ratio – If you have a bank loan, your bank almost certainly follows this, and requires it to be at a certain minimum. You should follow it too, especially if you're in a low margin business. Don't let your bank surprise you.
Firm Order Backlog – How much business is on your books for future delivery? If you have to make what you sell, or buy it from overseas, there are lead times to consider. Not to mention the anticipated trend in sales in the upcoming months. If this is dropping, look out!
And now the kicker – your dashboard should chart each of these KPIs over time – for 6, 9, or 12 months, so you can see the trends developing before a leak turns into a gusher. Lots more details in Ch. 7 of my book if you want to read further.