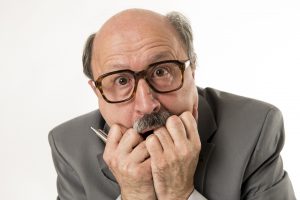 I had a meeting this week with an entrepreneur/founder who had been advised to engage a fractional CFO to help him manage his company. The business is actually in its 7th year and has been singlehandedly managed by the founder, growing to a few million dollars in revenue last year with the market opportunity to grow to $10 million in short order. During the conversation I learned that the founder:
has no financial background to guide his financial decisions,
doesn't quite know whether he's currently operating at a profit or loss,
has SBA loans with accruing interest that has never been calculated or recorded,
has a single person CPA who responds to questions but doesn't offer advice, and
has never gotten a monthly financial statement from his outsourced "bookkeeper."
Really? This is a dangerously under-served business owner who could be in crisis and not even know it until it's too late. And yet in this era of smart professionals choosing to start their own businesses rather than return to an unsatisfying job, I believe this is far more common than we'd like to believe. This blog will hopefully find its way into the hands of others in a similar situation. If you know someone who is starting a business, has recently started one, or even – as in this case – been operating for some time by figuring it out as they go along, and assuming the light at the end of every tunnel is a green light to proceed as before, please share this with them. Every business, small or large, new or old, needs basic financial information to survive. That includes this very minimal list:
a monthly financial report that includes an income statement, balance sheet, cash flow, and comments from the preparer about anything that isn't self-explanatory,
a reliable list of who is owed money, how much, and when it's due (including SBA loans),
a reliable list of all customers, what they bought, how much they owe, when it's due to be paid,
a reliable list of all assets owned by the company, their cost and estimated service life.
if the company carries inventory, a reliable method of keeping track of that inventory – what they have, how much of it, its original cost, and any diminished value that has occurred.
And that's just for starters. And you don't get that kind of information by keeping your record in your checkbook or in your head. You get it by asking people who understand how to capture, track and report that information.
An entrepreneur launching a new venture may believe hiring a good sales person is more important than hiring a good bookkeeper or accountant. But they'd be wrong. They're equally important, because the business cannot succeed without both skills in the mix. And even if the first accounting hire is an outsourced bookkeeper because the founder can't afford a fulltime employee yet, they need to make sure that person is skilled at what they need. And if they don't honestly know what they need, they should ask someone with skills in that area to assist them. Maybe a good CPA and maybe something more. Like what, for example?
We are Your CFO for Rent.