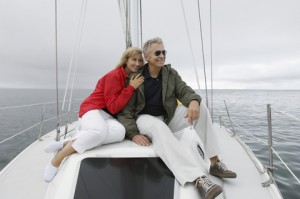 Various studies and projections have estimated that between 30% and 70% of privately owned businesses will change hands in the balance of this decade. That's a lot of transition by any measure, since there are estimated to be between 7 million and 20 million such businesses in the USA, not counting those that are basically one person shops. In my experience very few of those businesses will be successfully transferred to the next generation of the family, which means that most of them will either be sold or dissolved as their owners leave. If your business is one of those that you hope will be successfully sold, you will want to keep your eye on this column in the weeks and months ahead, as that will be a main focus of many of my future posts.
For example, I sat on a web panel recently on which the topic was planning for just such an event (typically called a "transaction" in the trade). While the program is no longer available online, the idea of planning ahead has never been more relevant or critical to your retirement planning.
A key point made during this program, and one which I fervently urge business owners to accept, is the need to begin planning for an exit 2 to 5 years ahead of the desired departure date. Why so long? Two reasons:
Because you will want to ensure your business is as valuable as you can make it before putting it on the market.
Because it takes time to find and cultivate an interested buyer, and to then go through the intense and often grueling process of negotiation, due diligence, re-negotiation and finally closing the transaction.
If your business is in great shape – consistent earnings year after year, solid growth trend, trained and loyal employee base, effective management team in place – then perhaps a year or two to find and close a deal will be enough. I have not yet found a business in that top condition that couldn't be significantly improved with the right focus and the right preparation. And if you believe your business is not in such great shape, or that it truly needs work – be honest, now – then you'll need more time to increase its value, and that's why you might need up to 5 years and some good advice from a professional – oh, that's us. The number is 888.788.6534.
As always, I welcome your comments and feedback.