If you have been following my posts for a few years, you've seen this diagram at least once before. It's the master plan for planning that the best-in-class companies use to drive strategic direction and goal setting. Each year I urge more of our CEO readers to adopt the model for their own planning, to give them the tools to truly manage strategically instead of tactically. My pitch is late this year, because there were so many other topics I couldn't wait to write about, so my apologies for that.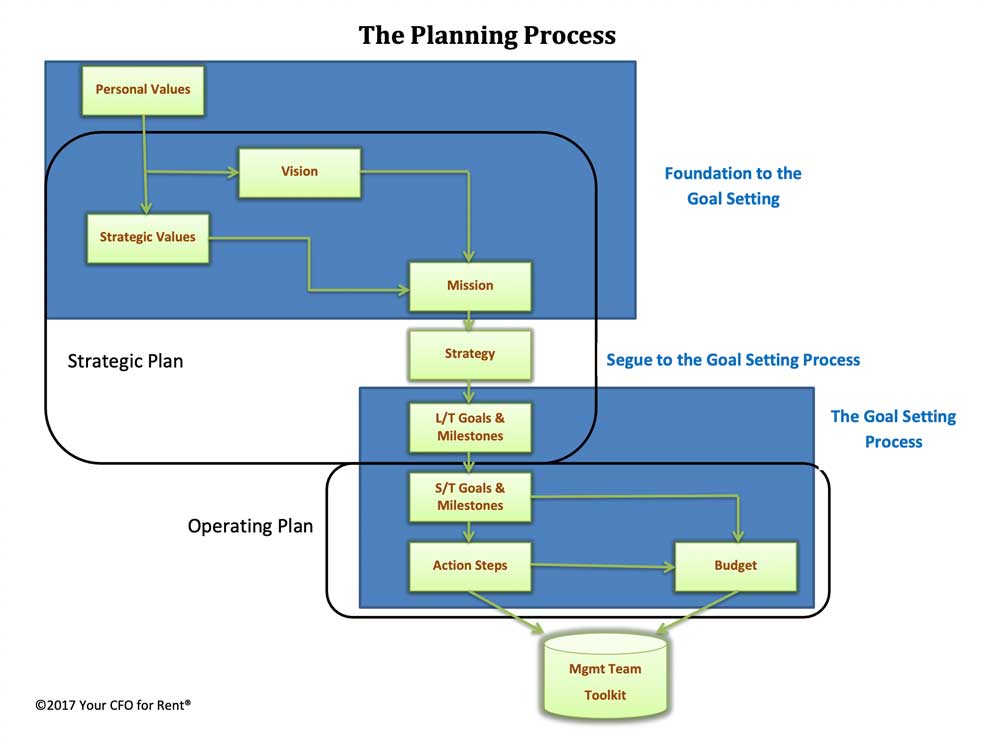 But there is still time if you want to reap the benefits of improved planning and you're open to a more aggressive timetable for getting it done. The ultimate goal is to lay the groundwork for long-range thinking – typically 3 to 5 years – and then produce the goals and budget for the next twelve months that will put your company on track to reach your strategic long-term goals and ultimately fulfill the mission you set out for your company.
But let's suppose for the moment that you already have a clear sense of your long-term goals, but just haven't developed the tools to manage the day-to-day activities that will move you measurably in the right direction. That in my mind is what the Operating Plan and Budget are designed to provide – specific short-term targets that can be established, put on a timeline, and then budgeted for. Now budget accountability provides a monthly reminder of what you wanted to get done and what it should cost to get there.
I'm not going to tell you in this post how to develop that budget, but I will tell you where it is laid out in clear language, with illustrations, thanks to an on-demand online course called Budgeting Best Practices that I developed a few years ago for Illumeo, the top-rated national financial education website, with over 1,700 courses available, including several of mine. Just this year alone this program has earned a 4.7 rating (out of 5) from Illumeo customers, which include some of the largest companies in the country.  The cost for this course is nominal, and you can get access to their entire library for less than $300. So the real cost is not the money or even the time to take the course. The real cost is not taking the course and not using the methods outlined there – your company's impaired ability to define and manage its investment in goal achievement. How do I know this works? We've been using it for over 30 years. When clients use it, it works. When they don't, we get more consulting work. Because…
We are Your CFO for Rent.