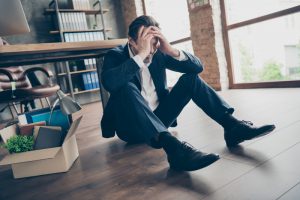 If you've struggled during the past year or so, let me tell you a story about the journey of one small business owner who started out on the wrong foot but found a way to recover.
Back in the 80s, after a couple years of military service this young man started out as a CPA, grew to become a CFO for mid-sized private and public companies, and then decided to go out on his own as a financial management consultant. As for the timing, not great. The young public company he had helped build got sold to a venture capital firm that had their own ideas about what the management team should look like. Exit the entire management team. While this was totally unplanned, he felt very strongly the need in the marketplace for what is now called a Fractional CFO. On day 1 he hung out his shingle – with no clients, no prospects, no network, and minimal savings. Paying the home mortgage was still a requirement, as other debt began to pile up while trying to get the business off the ground.
Eventually the debt became overwhelming and way past due. Credit cards were tapped out, stock granted by the young public company was pledged for a loan that was defaulted. Not much was left but the original idea of a consultancy. Out of options, this young man filed for bankruptcy and relinquished every valuable asset except his home (and the mortgage).
Faced with an opportunity to consider his next move – mom would say "get a real job" – he chose to follow his heart and continue building his consulting business. The days went by. Then, seeds planted earlier began to sprout. A client signed on, and then another. Networking connections began to remember the name and the mission. More referrals followed by more engagements leading to more positive feedback into the business community. Within a few years the need for more consulting capacity became evident, leading to adding a second consultant to the growing firm, and then another.
Today that firm – known as Your CFO for Rent® – is a successful, well regarded boutique firm with 6 seasoned CFOs as consultants. We are as strong today as any other time in our 35-year history. I am grateful to everyone who helped me along the way, and there were a lot of you, believe me.
What's the point of the story? If you can look in the mirror and honestly tell yourself:
you are strong in your belief about the path you've chosen,
you are persistent in getting up after every time you get knocked down, and
you are not afraid to ask for help when you don't know what to do,
then your success is virtually assured. Of course, it wouldn't hurt to have some savings or friends & family money to help you get started. It's harder the other way, I can say with some assurance. Been there, done that.
We are Your CFO for Rent.