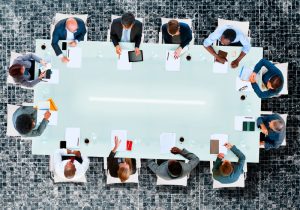 For those privately owned companies that have had the foresight to have boards of directors or advisors in place prior to the pandemic, it's been a busy time for them but a welcome source of guidance and support for you, the CEO, owner, or the family management team. And the worst is hopefully behind us. Now what?
Boards have traditionally had the role of helping their company's management look ahead, to be on top of how tomorrow will impact their business, but with the short-term focus of the past year or so, that need may have slipped by the wayside in board thinking. So I'm offering some ideas from Private Company Director magazine for getting your board refocused, probably best discussed in a board meeting with company management present and involved in the discussion.
Is the board curious, cautious or complacent? Does the board have an intellectual curiosity about the business – especially outside directors who don't live it every day? Do meetings focus on a packed agenda of reports or do they take time to ask questions beyond the report line items, even when the business is doing great (as they almost certainly do when it's not so great)?
Are board members great at listening and learning? Gathering views of current and prospective customers – is that incorporated into your thinking? Do you simply accept your previously formed ideas about how things are, or do you keep an open mind that will recognize and value information that challenges your preconceived notions about the business?
Is the organization as flexible, agile and resilient as it can be? How do you contribute to a flexible thinking approach that is willing to pivot in times of need (like the pandemic) or when the world around you suddenly changes? Even in a capital-intensive business or one with long-term commitments, this is an ever-present need in every board.
Does leadership development have a future-proofing focus? This is often most demonstrably needed in family-owned businesses. Is there a concerted effort to challenge the rising stars to prepare for the future? This doesn't happen by having them just occupy a seat at the table – they need to have leadership opportunities that will challenge their thinking in ways that will build for the future.
Are the board and management unleashing the potential of the business? Do you ever even ask that question at board meetings, or have you had that dialogue in collaboration with management? One of our clients has expanded their bricks and mortar business to ecommerce in order to broaden their market from regional to national in scope. That happened because someone asked "What if?"
How does your board's practices stack up against my short list? Who on the board is enthusiastic about this kind of thinking and who sits quietly during such discussions? If you're thinking of forming your first board, how do these questions figure into your recruiting? We are Your CFO for Rent.