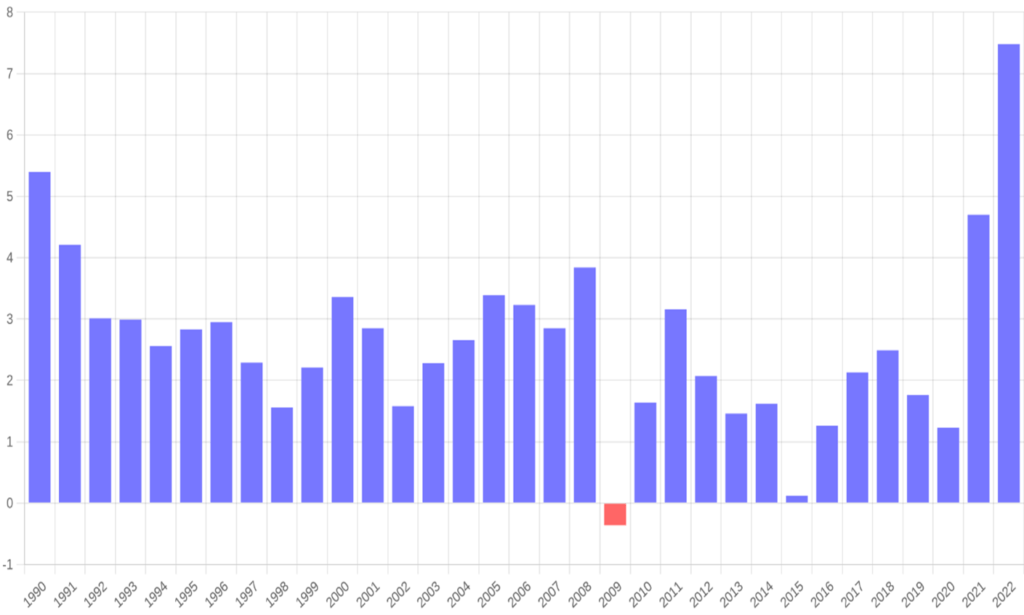 It will cost you $2.15 today for what would have cost you $1 in 1990. You don't have to read about the effects of inflation to know that it's hitting everyone and every company. You see it at the gas pump and the supermarket. Your managers see it in the cost of raw materials, supplies and (of course) labor. CEOs rank it as their #2 concern (behind labor shortages) in trying to grow their companies and preserve profits. When inflation hits your cost structure and it isn't dealt with effectively, the result is damage to your balance sheet, decline in the value of your business, and perhaps even the survival of that business.
So, here's a list of ideas for you to carefully consider to moderate that impact, taken from over 30 years of serving corporate clients through several periods of serious inflation – although this is arguably the worst in that timeframe (see chart).
The obvious one is passing cost increases through to your customers in the form of price increases. But this needs to be implemented with care and communication, both before and after changes are made, to avoid negative feedback. If I can't empathize – at least a little – with your need to charge me more, I'm going shopping elsewhere.
Consider scaling back the breadth of your product offering, keeping those most popular and/or most profitable. For manufacturers, look at products that have component overlap to consolidate manufacturing complexity, potentially lowering your production costs.
In your budgeting, allocate available resources to your most profitable offerings to maintain an overall ROI and preserve profit margins. Go back and re-read my post of 2/11/2022 outlining the five things you must know about your cost and profit structure. Focus on items 2 and 3 on that list.
While the urge to get people back to the office may be strong, consider adopting a hybrid staffing model enabling you to downsize committed office space. If leases are coming up for renewal this is the perfect time to seriously consider how much space you really need.
Since some suppliers will use the supply/demand imbalance to add to their profits rather than just preserving margins, don't be afraid to actively engage in negotiating lesser price increases, diversifying your supplier base, building more inventory in return for special pricing concessions, etc.
Have a long-term capital spending plan? Consider accelerating that plan with today's lower cost of money as the Fed raises interest rates in an effort to suppress inflationary demand. If you have cash put aside for that purpose, even better. You can expand capacity at a lower cost and sell the output at the higher prices that tomorrow will likely bring.
Want to move on some of these ideas now but need some help in implementing them? Call us today.
We are Your CFO for Rent.