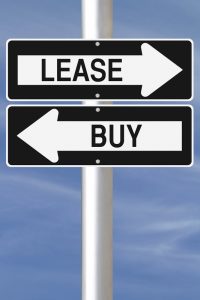 This question still comes up regularly: Should we lease or buy the equipment we will need next year? Often this is simply a cash flow question. But about half the time the questioner is actually asking which method is least expensive. So here's the answer(s).
#1 – The answer will virtually always be: Leasing is more expensive than buying. The leasing company is buying the asset you want, often from the same source you would, and then leasing it to you. Another layer of operating cost and profit (the leasing company's) has been added to the transaction, and their buying power will almost never lower your cost below what you could have gotten it for directly. If a lease sounds less expensive, you should try to negotiate a better purchase price or loan.
So why lease at all?
#2 – The answer will always be one of these:
To conserve your scarce capital resources, the cash you would otherwise invest in the purchase, or down payments for installment purchases. Startups and emerging companies will most often pick this one.
To obtain credit from a source that will not impact your bank borrowing limits. This could be helpful if you are contemplating a large transaction in the future that will need to be financed by your bank, or you are tapped out at the bank but can still justify the need for the equipment.
To obtain credit when you are not otherwise "bankable."  In these cases, your lease cost is usually very high.
To "sell" tax benefits that you cannot use but someone else can (note that this could be the lone exception to answer #1, but usually tax benefits just lower the extra cost, they don't reverse it).
To drive a new car every few years, with easy return to the dealer at the end of the lease.
#3 – The answer will never be: to save money, because your interest rate will virtually always be higher. Why? Because your leasing company is borrowing from someone else, thus adding a layer of cost.
Does this make leasing good or bad? Neither. Does this mean leasing will reduce your profits? Not necessarily. If you are a growing company, thirsty for capital and with good profit margins, we will almost always recommend you at least consider leasing, even at higher cost.  It preserves capital that may not otherwise be available, capital that can be used in your business to generate profits in excess of the added cost of leasing.
If this is not clear, or if you're still not sure what is best for your company, please call us. We'd like to help you.
We are Your CFO for Rent.