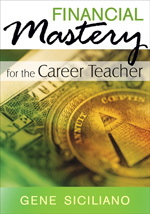 Finally in print: "Financial Mastery for the Career Teacher!"  Published by Corwin Press and shipping today, this book is the perfect summer read for education professionals and school administrators.  In this book I brought my extensive financial management experience to the business of personal finance, specifically for teachers.  The book effectively translates complex financial strategies into personal wealth management action for the teachers who are critical to our children's development but underpaid and often undervalued.
"Financial Mastery for the Career Teacher" is a concise, well-written, easy read for the non-financial professional.  In plain language, it guides readers through the steps needed to take command of their financial future in spending, saving, investing, retirement planning and more.  It is a great gift for teachers as they wrap up the school year.
As you may know, my first book, "Finance for Non-Financial Managers", is a business best seller and received rave reviews for its readily understood vocabulary and straightforward approach to what many consider intimidating financial matters. My new book uses the same conversational style to get its message across. If you have children and they have teachers, you know what to give them next month. Here's where you go:
http://www.corwin.com/corwinSearch.nav?&_requestid=89927
As always, I welcome your comments.