When someone uses your registered trademark without permission, it's important that you challenge that activity, and police illegal uses of your valuable marks. Otherwise you risk losing the right to it. That's one way of abandoning your rights to your trademark. So, we police our valued registered trademark regularly, and recently found a Google ad placed some time ago by a Phoenix-based firm called B2B CFO. When we advised the owner of the violation he was actually indignant that someone would dare bring it to his attention. His response to us: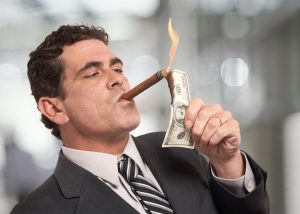 "CFO for Rent is a horrible trademark and we do not want our good name associates with such trash." Then a bit later: "You are an ass-hole, Gene. We will not do anything about the matter. Please hire an attorney and sue us."
Charming, huh? I'm thinking this is someone who represents the integrity of the CFO in their image to the world, but who is that arrogant about violating others' rights. Hmmm. If I were a company CEO, would I really want them advising me on financial and strategic matters? On risk management? Food for thought.