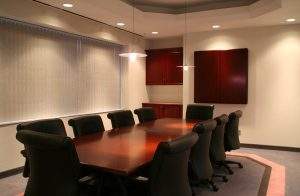 A question asked by private company owner/operators – perhaps when they're asking advice from someone they trust, their banker, lawyer, CPA, or their sister-in-law. It's not that they don't think they need advice – OK, for some of them that's true – it's just that having a structured group of advisors sounds like (a) a lot more effort than it's worth, and (b) a lot more sharing of private information with outsiders than feels comfortable.
Well, the second part is certainly true, because you can't expect good advice if you don't share the whole picture around the advice you're seeking. But I want to challenge the first part, not because it doesn't require some effort, but because the company that has an advisory board invariably gets value far in excess of the effort to organize and maintain one.  Think about this for a moment.
Let's say you run a company that manufactures and distributes consumer products. You spend a full day managing all the activities in your company, hopefully through a band of trusted employees, who deal with the day-to-day tasks in marketing, sales, plant operations, shipping, accounting, human resources, etc. And they're working a full day too, in their respective areas of responsibility. How do you get the benefit of solid guidance on questions like:
Will interest rates continue to climb? Do other banks have lower rates than your bank? Should your next equipment purchase be a cash purchase or a financed one? Would your banker tell you and risk losing your business?
How are labor regulations trending in your city/state? Aside from the cost of hiring and keeping staff, insurance premium trends, etc., will new rules or rates make it wise to consider a PEO rather than doing it all in-house? Would your insurance agent tell you and risk having someone else provide the relevant insurance?
What competing products are coming to market that could take away market share? How are they doing in places where they've been introduced? What is the best way to compete? Will your marketing manager know the answer because they researched it on weekends?
Are there new software products out there that will efficiently produce a financial dashboard that would make your spending decisions smarter, your accounting reports easier to understand, or your performance metrics easier to track? Would your accounting manager have time or interest in researching that on top of their already packed daily routine? Is this really an area you should rely on your CPA to keep you updated?
What are the potential benefits and pitfalls of a new idea you had, beyond those you had already thought of, from the perspective of an actual outsider?
These questions come up all the time in today's fast-moving world. They don't announce themselves in the newspaper or on TV, they just happen somewhere just about every day. When you have the time to think about an issue, a risk, an exposure, you can certainly pick up the phone and call your banker, your insurance agent, your attorney, etc. and ask them about it. When you have time to think about it, that is. But what if you had a small group of people who came to your office (or zoom link) on a regular schedule, and you could count on them collectively to:
have broader market awareness about things that touch your industry than you have time for,
have genuine concern for your company without regard for what's in it for them, and
are smart enough to understand how trends and new developments might impact your company.
offer advice without any requirement that you take it, as long as you hear them?
Wouldn't that be an asset worth having around? We think so, and clients who engage one of our team to sit on their advisory board think so too. And hey, would we lead you astray? Remember…
We are Your CFO for Rent.