This is a question that often comes up as we get referred to CEOs who need help but aren't quite sure if a non-employee relationship is a good idea, especially in the sensitive area of finance and accounting. Our firm offers several distinct services which can be valuable to many companies in the small to mid-sized revenue range. But in the interest of generalizing for clarity, a picture often really is worth a thousand words. Here's the picture that tells the story best: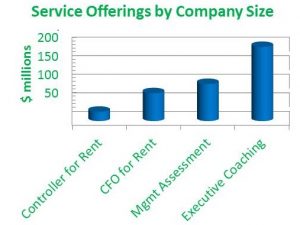 Again, just a generalization, but it has described nicely where most of our client assignments have fallen over the years, and the size of companies that have found the most value in what we do.  In recent years our services have proven valuable to companies up to $200M in revenues, but the most predominant need has been seen in the $5-75M range, and that continues today. Some of the areas in which financial management expertise is critical to the success of every business:
Manufacturing cost control – do you know what each product really costs you to make?
Banking relationships – are you really getting the best service and lowest rates from your bank? How do you know?
Cash forecasting and budgeting – Do you know what your cash position will look like in 6 months, a year? Are you doing profit planning?
Administrative cost control – Are you getting your money's worth from the team that supports you?
Employee benefits and regulations (including COVID) – A huge area for cost management and regulatory risk.
Accounting and financial reports – Are you getting in usable form the information you need to make the best financial decisions?
Business insurance – Do you have the right mix? The lowest premium from a reliable insurer? When's the last time you checked?
Just something to think about…If you want to think about it with someone who thinks about this stuff every day, call us.