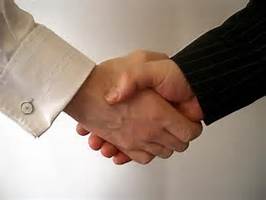 Whatever business you are in, whatever role you fill in your company, negotiation is part of your responsibility. Whether you're trying to buy a machine or a building, capture a new customer, get a better deal from a supplier, sell your company, or buy someone else's company, negotiation is part of arriving at a mutual agreement to get something done.  The master educator on the topic of successful negotiation – in my view – boiled it down to 10 rules. He's written excellent books on the subject (the latest is "Secrets of Power Negotiating", Roger Dawson, Career Press 2021) but he once summarized it for us into the 10-point list below.
A note of caution: Those who are committed to the fine art of win-win negotiating may find this list a bit harsh on their adversaries. If you're leaning that way after reading this, keep in mind that in any "win-win" negotiation the first "win" – yours – is still the most important one.
OK, here's Roger's list:
Never accept the first offer without some attempt at negotiation, so the other side feels they've won a negotiation.
Don't let the other side know how much you care.
The real power in negotiation is having options and successfully restructuring the other side's options.
Ask for more than you expect to get, and never start with your best offer.
You opening position should be as far above your objective as their offer is below it. To make this work you must get them to commit first.
Be sure to flinch at their first proposal, otherwise they may think they can do even better.
Always play the reluctant buyer, and beware the reluctant seller.
What can you give them, that won't take away from your position, yet will be something they want?
Remember these words: "You'll have to do better."
And these words: "How much better do I have to do?"
There are several advantages to this list. First, it's not hard to remember or put into use, as I discovered soon after I heard this for the first time. Second, you have the opportunity to put your opposite number at a disadvantage, but still create the opportunity for a win-win result. And third, you will probably get a better deal than you would if you just wing it, a frequent tactic of inexperienced business negotiators.
Want to give it a try? If your company needs help understanding and managing the financial aspects of your business, and you realize you don't have all the answers, call me and negotiate a deal for my team to help yours. I guarantee a win-win at the end.
We are Your CFO for Rent.